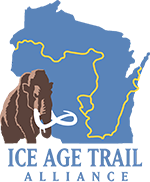 More than 12,000 years ago, an immense flow of glacial ice sculpted a landscape of remarkable beauty across Wisconsin. As the glacier retreated, it left behind a variety of unique landscape features. These glacial remnants are now considered among the world's finest examples of how continental glaciation sculpts our planet.
The Ice Age National Scenic Trail is a thousand-mile footpath that highlights these landscape features as it travels through some of the state's most beautiful natural areas. The Trail is entirely within Wisconsin and is one of only eleven National Scenic Trails.
But the Ice Age Trail is more than a path through the woods. It is a place for mental and physical rejuvenation, a place to unwind after a hard day and enjoy the landscape of Wisconsin. More than 1 million people use the Ice Age Trail each year to hike and snowshoe, to backpack, to disconnect and reconnect. (Copy courtesy of http://www.iceagetrail.org/ice-age-trail/)
The village of Hatley is a proud neighbor of the Ice Age Trail! The Mountain Bay Trail provides explorers and casual nature lovers easy access to the Ice Age Trail and we encourage residents and visitors to enjoy this unique outdoor experience!